They say you can judge a man by the shoes on his feet. But in a time where all it takes to be a 'sneakerhead' is a few simple clicks online and tabloid fashion editors command the clueless to don Air Max 1s in their painful 'Trainers With Everything!' editorials, that old adage doesn't work so well in 2014…
So, while it may feel sad to watch some of your all-time favourites slink miserably into ubiquity thanks to Joey Essex and the Office concession in Top Shop (Huaraches, we're looking at you), thanks to brands such as Gourmet, there are still plenty of ways to make an original statement with your footwear – without resorting to rocking dad shoes.
Combining luxe and innovative fabrics, bags of style and genuine functionality, Gourmet's rare success in the near impenetrable realm of fashion-led sports footwear is based on much more than just good looks. Built on years of experience in the world of fashion retail and design, the guys behind Gourmet have being doing it right, in their own unique way, since day one.
Visiting the UK for the first time in years, Trap caught up with Greg Lucci – one of the brains behind the brand – in a plush East London showroom packed with Gourmets of every shape, size and colour. Read on for a fascinating insight into one of streetwear's most original and influential characters – and brands.
Hello Greg, our readers will know all about Gourmet, but perhaps not you. Please introduce yourself…
My name's Greg Lucci and I'm originally from New England, but I'm now based out of LA, where we founded Gourmet. I moved to LA in the early 90s, but went back to New York to work for Zoo York for a while around 2002. I did a bunch of things over in New York, including working creatively to help out at the start of Complex Magazine. After that, I headed back to LA and started Gourmet a few years later.
You've worked with some of street fashion's biggest brands over your career – did you study fashion at college?
Nope. I actually got into fashion through retail. I opened a store in the early 1990s in California called Chaos and, through that, I met a lot of people in fashion. I'd help out people with ideas and things like that, and it just all went on from there.
So, tell us more about the store…
It was heavily centred on music, by that I mean a lot of concert tee-shirts, from every genre from hip-hop to rock, combined with skateboarding and what people call streetwear today. But it was the start of things, the early 90s; the start of all that.
It was unique. Almost everything in my spot, apart from the skateboard stuff; it was pretty much the only place you could find it, stuff people hadn't seen before. A lot of the merch in there was East Coast stuff, which was weird for California. It was risky, but it turned out well.
You've lived in both New York and LA, and we're sat now in London. As style cities, what are your perceptions of the differences between the three?
"I think style and fashion are two different things."
London has always been a fashionable city, for me. From a fashion perspective, you kind of get it. I like the eclecticism of how people dress out here, it's not just one thing or another, it's a lot of different worlds thrown in together for a look. And that's one of the spirits of what Gourmet has always been about – it's about the high, the low, the curation of all that and how it looks together.
It's a style-based thing. I like London for its style. I think style and fashion are two different things. I love the eclecticism of it. It's refreshing. People dress to make statements, you say who you are through your outfit, but I like the mix. That's what I've always been about and I find London is like that. And that's great for Gourmet, too.
And New York and LA? Is the perception of the cold hip-hop world of the East and laid-back surferdom of the West a true one?
Yeah that's a true perception; California and New York are two completely different environments. Although, you can travel the world, but there's no place like LA. That place might as well be another planet, it's different to anywhere you've ever been.
LA is entertainment industry based. It's a very transient city; people come from all over to make their way and to try to become famous. That shapes you as a person; everyone there is very self motivated. It's an interesting place and very unique. It's a place you can go and make a fresh start.
You were involved at the start with Complex Magazine – who recently hailed London as the 'sneaker capital of the world'. Would you agree?
That doesn't shock me at all. The trainer culture here, ever since the early 1990s, has always been on another level to anywhere else I've been. In terms of the selection available, and the consumers here who will buy all that stuff, I think it's amazing. You guys are very much a trainer culture – there's real diversity between the athletic and fashion. I've always enjoyed that.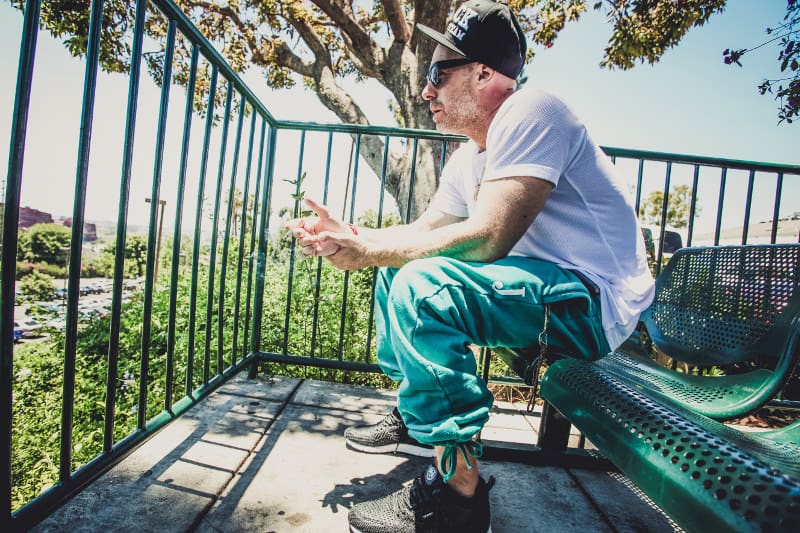 Which is your favourite style city? Where inspires you most?
The things I get inspired from, when I travel, are nothing to do with fashion or culture. I'll go somewhere to surf, do something completely different. That's where I take my inspiration from.
I like to go out of my head and see how it works. If you've always only got your eyes on what's going on, then that's all that will inspire you and you're then going to be making something that's already old. I never liked that philosophy; I'm always inspired by something, but it's never a product.
You've mentioned your fascination with combining the worlds of fashion and practical athleticism – it seems this is at the heart of Gourmet as a brand, too?
It's everything. It's the nature of this brand. I've always been someone that was athletic and, I guess, I've always had some kind of style. I never understood why the best performance and functionality had to look so awful.
I was always fascinated with crossing that line between function and fashion and making it work together on a bigger platform. And that's the DNA of Gourmet. It's the understanding that style is not fashion. There are beautiful things that are cheap as anything, and those that are really expensive; it's the understanding of how you can wear both those things together. How you can wear a $10 track pant with a $3,000 shirt, and someone will always ask you 'Where d'you get the $10 track pant…" All those things combined, from the high to the low, fashion to function, that's really what Gourmet has always been about.
"We made American sportswear in high-fashion factories in Italy."
That was your motivation to start the brand?
It really was. My partners and I are all American-Italian kids; so we framed it up under an odd culture reference that wasn't just one place or another. Being a certain descent, but being raised in a completely different place, all those things together.
When it came to the product, it was always function and form and where that met with style; the high and low together. When we started we made American sportswear in high-fashion factories in Italy. The Dior factory, Missoni – but we were building sweat pants and hoodies…
Given your success, what would your advice be to anyone looking to set-up a brand? 
It's a tough business. Whatever you're gonna do, make sure you have a timeless concept and a bigger idea that enables you to navigate in and out of whatever trend is going on at the time. A lot of people trying to be creative do so off a trend that's happening and they're here today gone tomorrow, because they've made their brand so focused on what's cool for right now.
I see a lot of the young people, I love and appreciate what they do, but they start it off with what's popular and they become known for that one thing. Then, when that trend has gone, they're looked at in one dimension. The way to avoid that is to have a bigger idea.
And finally, 2014 is set to a big one for Gourmet. What should we watch out for?
I'm very excited about our Quadici shoe, which has been redesigned into a lightweight template – it's a very light, functional running shoe, but it's a duck boot! We also have a new low-top running silhouette. Then, the other stuff I'm very excited about, well, that doesn't come out until the season after, so I cant talk about that right now…