SWAMP 81: EVERYTHING FOR A REASON
It's winter 2009 and a cold, miserable night in the rain-hammered city of Bristol. Seminal dubstep night Subloaded is celebrating its tenth edition at the infamous Black Swan and an expectant crowd pack the main room awaiting a set from one of the sound's most important figures.
That figure is Loefah, founding member of dubstep-defining record label and dance DMZ, and a man who at this point, has been suspiciously quiet for the last year or so. Stepping out from the backstage shadows, Loefah places the first acetate on the decks and begins his set. Reaching for the classic sub-driven half-step with which he and his contemporaries had wowed the world only a few years before, it's clear from the look on his face and the music he's playing that this is a man uninspired by and detached from what he is doing…
Fast forward just a couple of years and it's now March 2012. Loefah is back in Bristol, headlining ultra-hip house/ garage weekly 51.27 and he's an hour late to come on stage. Eventually, grinning from ear to ear, the Londoner appears, plugs in his laptop and unleashes two hours of pure vibes on a rapturous, bouncing crowd.
Playing everything from classic 80s house and techno, to garage and even pitched-down dubstep, around a solid core of indefinable, bass-driven and often exclusive dance music, this is a man clearly loving what he's doing, and pouring passion into his performance. In stark contrast to that Subloaded set a few years before, this is the sound of Loefah in 2012, and this is Swamp 81…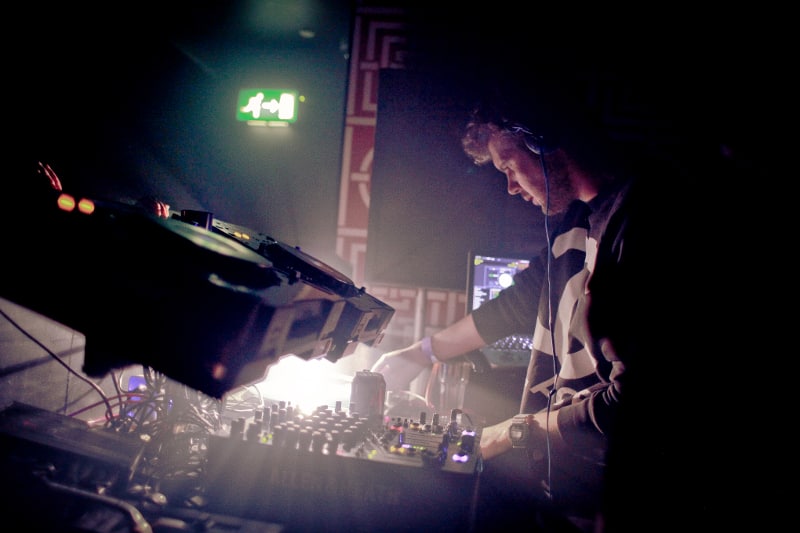 Without any doubt the most exciting movement in electronic music right now, Swamp 81 is much more than just another record label. Through a combination of years of astute planning, careful team building and unshakable belief, Loefah has developed Swamp 81 from another dubstep record label into a musically ambiguous artistic movement, providing a secure home and creative playground for an expertly headhunted band of musical veterans, rookies, geniuses and eccentrics.
The first few months of 2012 have seen Swamp firing out groundbreaking vinyl-only tracks one after another, helping define the post-dubstep world, and fostering the redirected talents of some of dance music's most original thinkers. From bass music royalty such as Zed Bias and Pinch, to new alter egos such as Boddika, Trusta and Mickey Pearce, the fresh talent of Chunky and the experimentalism of Falty DL, the Swamp 81 team draw deep in terms of geography, history and influence. And with the frighteningly talented ASHES57 onboard taking care of the label's visual side and ensuring every release is stunningly presented, it's easy to see why Swamp is making such a noise right now, and why we at Trap were so keen to secure the first ever feature with the full Swamp family.
It's a bleary eyed, slightly dishevelled Loefah that we meet stood finishing a spliff outside Bristol's Donuts store, the morning after his set at 51.27. Obviously tired, but buzzing with activity in preparation for his flight to Amsterdam for that evening's DMZ party, we eventually wonder across the road to a sun-soaked cafe, and over several coffees, innumerable cigarettes and a good couple of hours, set about getting to the bottom of Swamp 81.
"i didn't get in this to be on my own"
"I was lost personally for a while. That's why I started Swamp," Loefah begins after we've remarked on the comparison between his set the previous night and that we saw at Subloaded in 2009. "My agent talks about it as my 'watching period'. I hadn't released anything in a while; I was watching. I wasn't playing out much and when I was, I was playing what Skream, Mala, Coki or Distance had given me that week. And I didn't like all the tracks, I was playing them for a reaction; I was ultimately playing music I didn't feel anymore, to crowds who I didn't associate with anymore. I felt like a fraud.
"I didn't get in this to be on my own and play to crowds; I like working with people and creating things, being with a team. Doing something for a reason, you know, having a real purpose; not just writing a beat, copying what someone else has done, sell a few, make some money and be OK. That's bullshit. So I thought, 'Right, I'm gonna start Swamp.'
"I started the label doing the more traditional half-step, subbed-out stuff. The first single was by Kryptic Minds, and we did their album too. And then I thought, 'This isn't doing anything new, it's not pushing things. So I was getting a bit unsure; I was still playing the dubstep raves, but sets I felt were more credible, but the vibe that was there in the beginning was completely gone.
"And then, around this time, 'Footcrab' by Addison Groove fell in my lap. And I was like 'What the fuck? This is amazing!' I got that feeling from it, And I thought, 'Wow, why haven't I been doing this?'"
Addison Groove's 'Footcrab', a pounding slice of juke inspired, genre-defying bass music made entirely with an 808 drum machine was unlike anything else that had gone before it. One of the first to see its potential and immediately snapping it up for Swamp, the track was exactly what a very bored Loefah had been looking for…
"That track was a big turning point. I'd forgotten what I liked and that reminded me. What I like isn't necessarily just droning subs and half-step beats – I like drum machine shit! In my heart is this drum machine shit, I love it, I love that sound; raw drum machines, samples, subs, grooving.  I thought, let's do it, let's switch it up; now Swamp has no genre, it's just electronic music that I pick."
"So I pressed it and I was getting really confused reactions when I started playing 'Footcrab'. But the thing is, when we first did dubstep, people just stood and stared at us. I've got experience of playing shit that people didn't like and standing there saying 'No, you will like this, give it a minute.'
So I thought, fuck it let's do it. I was prepared to leave the whole dubstep thing and thought I was gonna have to get a day job. I really thought it was just gonna be a labour of love, two releases a year, 500 press, whatever."
"don't be bitter, be better"
Really? You'd have preferred to work a day job and push the music you love, rather than keep getting paid hundreds of pounds a set to play dubstep?
"Yes. 100%. I would have preferred to get a day job and do this, rather than feel like a fraud. I love this shit, it's what I love. I had to get out of dubstep. Everyone was recreating 2006 and I just thought 'Why can't you let it be that you were a part of that? You had that and no one can take that away from you, stop moaning.' There was a lot of moaning going on. And I was doing a lot myself. But I thought, 'Fuck it, don't be bitter, be better.'
"Just before I released 'Footcrab', when I was waiting for the stock to come back, that's when Ramadanman sent me 'Work Dem'. I thought, 'Wow, it's taking it a stage further!' It had a break in it; for me as an old hardcore head, that worked.  Things were taking shape. And at that time, I'd met Instra:Mental. Me and Al Boddika had met at an afterparty after FWD>> one night and really hit it off. Three days later, I'm on the phone to him geeking out about drum machines. I went round his studio, and Al's partner in Instra:Mental, Damon was off touring Australia, leaving Al in the studio alone. And this Boddika thing just appeared. We sat down, hatched a loose plan and went for it.
"At this point, it hit. I was like, 'OK, I know where Swamp's at now.' It started to make sense, it had a purpose, and I thought 'We can do something, we can contribute to this dance scene.' There's so much that's rinsed out. The majors get hold of things and rinse them. I feel like music has to be honest, or it has to bring something new."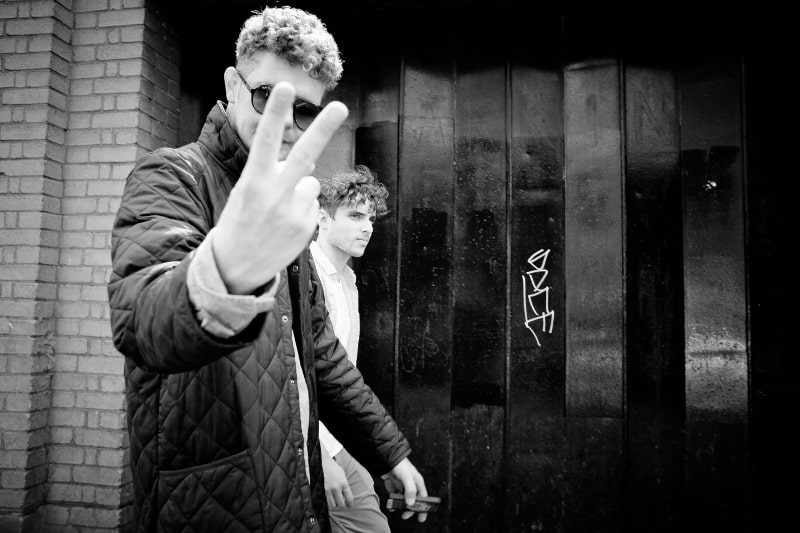 But do you feel like, with the embrace of acid, house and garge over the last couple of years, that there is anything new going on? A track like Boddika's 'Basement' is pure nostalgia, surely?
"Yeah, I think there is something new. When things start getting confused, you return to the source, don't you? When the 4/4 beat came around, it was weird. I thought, 'Am I really gonna do this? Am I, with my history, essentially gonna go out and play house music?' And I thought, 'I think I am.' It made sense because everything got fucked up in my head, so you return to the source.
"Having that 4/4 beat there, it's just like a blank piece of people, I can go anywhere now.  Right now, I can play so broad in my sets. Last night, I played an old New Jersey house track, old Strictly Rhythm tracks, old dubstep tracks; I play Benga 'Metro' all the time at -6. It goes off. It's great to not just draw from the classics, but not from your own scene but from your own history. I love doing that.  So yeah, the music we at Swamp and others are doing, it is something new. Future retro, innit? That's not a new genre name by the way!"
"It's not about genres anymore, it's about sound now."
Recalling how he accidently coined the term 'post dubstep' in an interview with a Japanese magazine, and his distaste at the zeal of the music press for labelling and categorising new sounds, Loefah makes it clear that genre names are not something he's interested in.  And he's not alone. Not since 'dubstep' has there been a go-to term to describe the electronic musical landscape of the last couple of the years.
'Bass music' seemed to work for a while, but the current house imbibed sound has made even that broadest of terms inaccurate. Everybody seems happy to do away with genre names and parameters for now, which has no doubt helped produced the increasingly cross-pollinated and vibrant sounds of recent times. So what does Loefah think of the genre shirking nature of the sounds he's pushing through Swamp?
"That's good! It's on purpose! It's not about genres anymore, it's about sound now. There's a sound to Swamp and that's what's important. It's just good music, and I represent a certain portion of music through my label. Just good, honest creativity is what I like."
Creativity is a word that comes up a lot talking to Loefah, and goes far beyond just music for the Londoner. With a life-long passion for graphics and design, and a Fine Art degree under his belt, when Loefah finally got round to starting the label he'd dreamed of since leaving school, it was always going to distinguish itself as much through visual identity as it did musical output. And that's exactly what Swamp has done. 
"Yeah, my three things are graphics, DJing and A&R, and actual music production. Having the label enables me to have a focus and when I get bored I can switch from one thing to the other. That's what Swamp is; a creative outlet. That's what a record label should be. Like I said, everything has to have a reason. It doesn't necessarily have to have an over politicised manifesto, but it does need a reason. And just putting it out for people to buy isn't reason enough for me.
"So yeah, we're making a statement; we're saying here's a sound, and here's a graphic look. I get involved in the graphic design, I'm the art director. Delphine called me that the other day and I was so proud. I sit over her shoulder and say I want this here, there. I've done a couple of the sleeves myself; I did the Ramadanman one, the 'Swims' one…"
"we're on this mission together"
And so to the final essential piece of the Swamp jigsaw – Delphine, or she's better known in the worlds of graffiti, art and music, ASHES57. Responsible for overseeing the visual direction of the label, in between her role as curator of London's LAVA gallery, she's a figure that Loefah holds in high regard.
"Delphine's my teacher. She's taught me loads, and I'm still learning from her. I love it. She's excellent, on point, so creative; she's an integral part of Swamp. Swamp is the artists, me, Delphine and Katie, the label manager. That's the team. And it is a team now; I'm not signing anyone else. Everyone brings something so different, and we're all on this mission together.
"It's like we did a Swamp night in Manchester the other week. It was completely sold out, the vibes were unreal. On a Monday night. And the thing was; everyone in there, they were all dancing. Dancing. Not moshing, not posing; dancing. The kids are learning how to get down to groove-based music again, rather than drop-based music. We're educating them how.
"There was about 15 or 20 of us on stage, we were all dancing, not nodding our heads, actually busting a couple of steps in the groove. I caught everyone at it, and I'm guilty as well. People are dancing again. I couldn't be happier to be playing the music that makes people do that."